Art Outside, The Best Fall Festival in Texas, Really! A Festival Preview by Rich Denis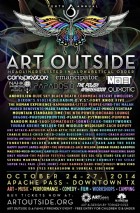 Fall is in the air and just outside of Austin, TX at Apache Pass in Rockdale, TX the crews are in their last week of preparations to get the annual Art Outside festival underway! Art Outside is a unique three day festival combining visual and interactive art, performance, film, as well as a wide range of music bridging genres, from bluegrass to experimental, hip-hop to dance music. What started as an idea to get art out of the galleries and into nature has over the last 10 years turned into the best fall festival in Central Texas with something to do for everyone!
Held over three days, this year the festival will run from October 24th through the 26th with campers leaving on the 27th. The festival will feature 75+ Musicians, 50+ Visual Artists, 30+ Workshops, 30+ Performance Acts, 10 Years, 4 stages. Attendance peaks around a few thousand people so there is plenty of room to roam on the 100 acre property. All 3 day passes include primitive camping with RV and Car camping options available. As a family friendly event, there is even a family camping area where things get a little quieter a little earlier and plenty of activities for your kids. ...
Suwannee Hulaween is Fastly Approaching!

September 24, 2014 - Silver Wrapper and Purple Hat Productions have added new artists to the lineup for the second annual Suwannee Hulaween including electronic producers, Shpongle (Simon Posford DJ set) & Emancipator, legendary rock guitarist The Dean Ween Group, Suwannee Bluegrass Surprise, Kung Fu, Thievery Corporations' Rob Garza DJ set, Nashville's hottest Americana Folk Trio Judah and the Lion, Ghost Owl, Strung Like a Horse, Jonathan Scales Fourchestra, Shane Pruitt Band, Suenalo, Beartoe and Post Pluto.

Hosted by The String Cheese Incident over Halloween weekend October 31 – November 2, 2014 at Spirit of the Suwannee Music Park in Live Oak, FL, these artist join already announced performers including Thievery Corporation, Big Gigantic, Beats Antique, The New Deal, Joe Russo's Almost Dead, Greensky Bluegrass, EOTO, Conspirator and more. ...
10/17/2014: Verizon Theatre; Grand Prairie, TX

About halfway through their Fall Tour 2014, Widespread Panic made their annual appearance at the Verizon Theatre in Grand Prairie, TX. This year, different from previous shows at this venue, Panic was co-billed with Trombone Shorty & Orleans Avenue. Another difference from prior shows at Verizon was that Panic played a one set show rather than their normal two set format. The theatre appeared to be filled to about half the 6350 capacity.
After a 50 minute long, energetic set by Trombone Shorty, Widespread Panic took the stage. With their normal drummer, Todd Nance, "taking time to attend to personal matters," Hard Working American's drummer, Duane Trucks filled in. Trucks is the younger brother of the Allman Brothers' guitar player, Derek Trucks, as well as the nephew of long-time Allman Brothers' drummer Butch Trucks. The band opened their show with Up All Night followed by Pleas....
10/12/2014: Austin City Limits at Moody Theater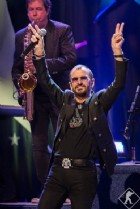 Even competing against ACL's final night line-up, Ringo Starr and His All Starr Band, back for the second night in 4 days, drew a large crowd at the ACL-Live Moody Theatre on Sunday night. His All Starr band are all stars in their own rite. Former Santana member Greg Rolie on keys, Todd Rundgren on bass and rhythm guitar. Steve Lukather on vocals and rhythm guitar. Richard Page from Mr. Mister on vocals and bass. Warren Ham, supporting on horns, vocals and percussion. And last but not least, Gregg Bissonette on drums keeping time the whole time.
The show was packed with classic hits that anyone who hasn't been living under a rock would know and love. Beatles fans were thrilled with Ringo played a number of hits like Don't Pass Me By, Yellow Submarine and With A Little help From My Friends. Richard Page slayed it on vocals during Kyrie....