Sign up for a MyKindWeb profile now!
This profile allows you to
create Pages or Groups, Photo Albums, create a Show/Event Diary to keep track of the shows you've attended, list your Recordings to let your friends know your list of tapes/bootlegs, and more... Sign up now!
HeadCount 10th Anniversary Benefit Concert with Bob Weir & Ratdog plus Special Guests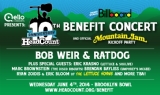 NEW YORK - Bob Weir and Ratdog will join a slew of guest musicians at the HeadCount 10th Anniversary Benefit Concert at the Brooklyn Bowl in Brooklyn, NY on June 4th. The event will also be the official Kickoff Party for Mountain Jam, a festival that begins the next day at Hunter Mountain in upstate New York and runs through the weekend.

HeadCount founder Marc Brownstein of The Disco Biscuits, Brendan Bayliss of Umphrey's McGee, Eric Krasno of Soulive and Lettuce, and Lettuce horn players Ryan Zoidis and Eric Bloom will all make appearances, with more special guests to be announced.

Qello, the world's leading on-demand streaming service for full-length HD concert films and music documentaries, will be the exclusive presenting sponsor of the event, with Grain Audio, iCitizen, Mashable, Apple and Eve and Ticketfly also serving as sponsors....
Keller Williams and More Than a Little - 3/1/2014, Emo's, Austin, TX
Keller Williams rolled through Austin on the 2nd night of a 4 night Texas run at Emo's during his What The Funk? Tour. A collaboration with More Than a Little that definitely brings the funk! More Than a Little members E.J. Shaw (bass), Tony Fairchild (drums), Gerrard Johnson (keys), Tonya Lazenby (vocals) and Sugah Davis (vocals) came to show Austin how to get down.
Getting it started was Kalu James, a local Austin Blues-Rock and Soul band. Kalu (vocals and guitar) and members JT Hole (lap steel and lead guitar), Nic Jay (bass), Robb Kidd (drums) and Michael Ruben (harmonica) got the crowd going with their soulful blues.
A quick set change later, Keller came out to warm up the crowd in traditional Keller style with a short solo set. Bathed in a golden glow, Keller built it up loop after loop with slow percolating riffs. Mental Insta is always a nice way to get it going. Before you knew it the crowd was moving in sync as he moved through his set. Finally when the time was right bringing out the members of More Than a Little and it just got better from there....