Keller Williams Trio Announces New Years Eve in Telluride, CO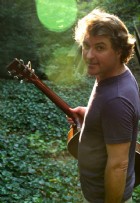 Today, prolific singer/songwriter/multi-instrumentalist Keller Williams announces he'll spend New Year's Eve in Telluride, Colorado with his 7-piece funk outfit More Than A Little. Dubbed "Tofunkuride" featuring Keller Williams and More Than A Little, tickets to this intimate show are available now to members of the fan club, and on sale to the general public on Friday, September 9. A limited number of VIP packages also available. Visit http://www.kellerwilliams.net/shows for tickets and info.

Find Keller on tour throughout the fall, bringing a variety of his projects - including Keller Solo, More Than a Little, Keller and The Keels, and his brand new Keller Williams Trio featuring Rob Wasserman and Rodney Holmes - to stages across the country.

Keller Williams Trio featuring Rob Wasserman (bass-RatDog) and Rodney Holmes (drums-Santana/Steve Kimock) debuted this past weekend to rave reviews. The players in the newly-formed trio greased their chops playing re-imagined versions of originals from throughout Keller's career and some choice covers live onstage during three shows in the Midwest. The excitement in the room, and onstage, was palpable....
Don't Miss The Aquarium Rescue Unit's 26th Anniversary Tour

Only Five ARU Shows Remain... Col. Bruce Hampton and the ARU are in the home stretch of their first full-length tour in 26 years!
The influential jam band has only five shows left on their 26th anniversary tour! With Oteil Burbridge, Jimmy Herring, Jeff Sipe, Matt Slocum, and the inimitable Col. Bruce Hampton, these guys are bringing straight fire to each and every stop of their tour, and we couldn't be more excited for the final stretch of a great summer run....
Umphrey's McGee - 8/23/2015: Jannus Live; St. Petersburg, FL

Umphreys McGee arrived early in St. Petersburg fresh off their Miami performance and were spotted at The Mandarin Hide bar in downtown St. Pete sampling some of their "Nothing Too Fancy Everyday Ale" and giving out free koozies to their fans. The Umphrey's McGee beer is a session American Wheat with generous amounts of fruity hops. Rock Brothers partnered with Cigar City Brewing in Tampa on recipe development, but will also involve Boulder Beer Company in Colorado for the newly released brew.
Jannus Live has been around since 1984 and hosted such notable acts as The Red Hot Chili Peppers (back in 1987), Bob Weir, Warren Haynes, Radiohead, Bad Religion, Janes Addiction, Pearl Jam, The Wailers, G-Love, Yonder Mountain String Band, The Flaming Lips, and Insane Clown Posse just to name a few....
Wheels of Soul Tour Featuring Tedeschi Trucks Band, Sharon Jones and the Dap-Kings and Doyle Bramhall II - 7-12-2015: Austin 360 Amphitheater; Del Valle, TX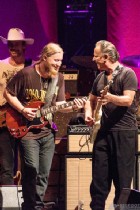 The Wheels of Soul Tour kicked off their second leg of the Tour in Texas this past weekend with a 3 day run across the state. Featuring the Tedeschi Trucks Band, Sharon Jones and the Dap Kings and special guest Doyle Bramhall II, this tour is a must see. No stranger to the Texas July sun , Doyle Bramhall and his band kicked off the night. It was hot but that didn't keep the loyal fans from getting down. It was a short set but we would see him again later that night.
Following Doyle was Sharon Jones and the Dap-Kings. After a warm-up by the Dap-Kings and then a fabulous two song set by the Dapettes, Saundra Williams & Starr Duncan (Saun & Starrs), Sharon Jones came out to give the crowd a set full of soulful energy. With songs like She Ain't a child no more and covers from Glady's Night like Heard it Through the Grapevine, Sharon Jones had the crowd out of their seats to dance with her and after schooling the crowd in some simple 1965 dance moves like The Boogaloo, The Pony, The Mashed Potato, and The Funky Chicken, Sharon got down like it was 1965 and put them all together to show us how it's done. She wrapped up her set with a story of how the meaning of Get Up and Get Out has changed for her now that she is on the other side of beating cancer and finally a rendition of This Land Is Your Land....
Widespread Panic - 6/23/15: Pinewood Bowl; Lincoln, NE

For the third straight year Widespread Panic made a stop at the Pinewood Bowl in Lincoln Nebraska's Pioneer Park. On a unusually cool night for late June, Panic brought their own heat to the stage in a 2 set marathon, featuring songs from their upcoming 12 th studio album " Street Dogs ". The band opened the night with '" Disco " and was in fine form throughout. "Poorhouse of Positive Thinking " and " Taildragger " ended the first set. The 9 song second set opened with "Radio Child " and featured high energy covers of "No Sugar Tonight/ New Mother Nature (Guess Who) before ending the set with a stellar "Tall Boy". The encore started with a beautiful version of Cat Stevens " Trouble " and finished up with " Sell Sell " another cover from Alan Page ( The Animals ) After a stop in KC, Panic will head west to add to their record number of sell outs at Colorado's Red Rocks....