FARE THEE WELL: Celebrating the 50th Anniversary of the Grateful Dead by Jay Blakesberg Released December 1, 2015

SAN FRANCISCO, Calif. – FARE THEE WELL: Celebrating the 50th anniversary of the Grateful Dead is a fine art, hardcover coffee table photography book by famed rock photographer—and bona fide Deadhead—Jay Blakesberg. FARE THEE WELL will be released December 1, 2015 via Rock Out Books and is available for pre-order now at www.rockoutbooks.com and other book retailers.
In late June/early July 2015, the "core four" surviving members of the Grateful Dead—Bob Weir, Phil Lesh, Bill Kreutzmann and Mickey Hart—reunited for five final shows billed as "Fare Thee Well: Celebrating 50 Years of the Grateful Dead." Joining the lineup for these monumental shows were Phish frontman Trey Anastasio, former Dead member Bruce Hornsby and RatDog's Jeff Chimenti. Lifelong Deadhead Jay Blakesberg was tapped as the event's official photographer. With a talented team, including photographers Chad Smith and John Margaretten, Blakesberg documented all aspects of this historic, culminating moment in the Grateful Dead's fifty-year career. From stadium soundchecks to Shakedown Street shenanigans, the colorful close to the long strange trip of the "band beyond description" is lovingly preserved in 305 images across the 208-page FARE THEE WELL. ...
The String Cheese Incident Release Three-Disk Set, Rhythm of the Road: Volume 2, Live in Las Vegas

The String Cheese Incident were in the middle of their 2001 coast-to-coast summer tour when they pulled into Las Vegas for the band's first ever, "Sin City Incidents." Touring in support of the band's new studio album "Outside Inside," and a couple days after the live Austin City Limits TV taping, the band settled into the Aladdin Theatre in July 2001 for two incredible late-night Incidents. Rhythm of the Road: Volume 2, Live In Las Vegas features the best moments of that two night run and includes fan favorites such as "San José" and "Howard," as well as rare bust-outs like "SKAT" and more. The audio has been completely re-mixed and re-mastered, creating a listening experience that all SCI fans will enjoy.
"We are excited to be releasing the second installment of our Rhythm of the Road live series," said bass player Keith Moseley. "It's always fun to listen back through the archives and find old shows that we consider to be important shows in our band's history. Las Vegas is always a big party and these shows in 2001 were no different....
Art Outside Publishes 2015 Stage Schedule
Art Outside organizers have just published their daily stage schedule for this year's festival. With 4 days of programming, their schedule is packed more than ever before and there is something for everyone that's coming to be excited about, and this is just the music we're talking about!
For those that snagged a 4 day pass their party starts Thursday with the sounds of Tauk, The Nth Power, Dopapod and The New Mastersounds all on the main stage. Friday's music kicks off at 2:30 and will treat festival goers to the beautiful voices of Beautiful Chorus. Later that day Twiddle takes the main stage to start the evening off while Brede opens the party over at the Dome stage. As in previous years the party is pretty much non-stop at the Dome where music will play until the sunrise set ends at 8 the next morning. Other noteable acts that you won't want to miss are Henry & The Invisibles at the Midway Stage at 8:30PM, Sea At Last over at the Folk It Up Stage at 9:30PM, Lettuce capping it off on the main stage at 12:30AM and finally for the night owl's, take in a set by Bonobo at the dome stage. ...
Art Outside 2015 - Apache Pass, Rockdale, TX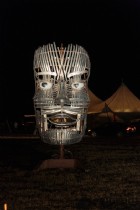 With a great music lineup, awesome art, a 4th day added for additional fun, new camping options, and record ticket sales, the 11th Annual Art Outside was set to be the best yet but Mother Nature would have other plans. Still, in spite of a record downpour that started early in the morning Saturday that left organizers having to cancel programming for the remainder of the weekend, Art Outside still turned out to be a great weekend, especially for those that came out for the pre-party on Thursday.
Pulling in late Thursday afternoon, we were braced for a bit of chaos getting in based on last year but there was a whole different vibe with a much better car flow this year that made checking in a breeze; many kudos to the AO team for that change! Once into the venue it was time to set up camp for the weekend. With a little help from neighbors I was setup in very short order. Kudos to the good vibes and helping spirit: it can be counted on at AO. Once the camp was set it was time to go explore the grounds before Tauk opened on the main stage at 6:30. There was familiarity to how the grounds were laid out and at the same time it was quite different with more artists painting, more vendors to shop at and more food choices. They were ready for the weekend!...
Lockn' Festival 2015 - 9/10/2015 - 9/13/2015: Oak Ridge Farm, Arrington, VA

This year's Lockn' Festival got off to a rocky start when the announcement went out late Wednesday night that the festival would be cancelled Thursday due to a severe microburst that descended upon Oak Ridge Farm. That didn't stop the music though, just delayed it by a day. Social media was abuzz with what that meant for Thursday's headlining collaborations The Doobie Incident made up of The Doobie Brothers and The String Cheese Incident and Billy and The Kids with Bill Kreutzmann, Aron Magnor, Reed Mathis, Tom Hamilton and special guest Dominic Lalli from Big Gigantic.
After a day of waiting to find out attendees would soon find out their hopes were not dashed even though The Doobie Brothers were scheduled to play in North Carolina Friday night, The Doobie Incident would still happen and they would open Friday right after John Popper from the Blues Traveler played a solo rendition of The National Anthem; Billy and the Kids were moved to Saturday....
Cornmeal - Slow Street

On May 29th, Bluegrass/Jam-band mainstay Cornmeal officially released Slow Street, its first studio offering since 2006's critically-acclaimed Feet First. Founding members Wavy Dave Burlingame (Banjo, Vocals) and Chris Gangi (String Bass, Vocals) return with Scott Tipping (Guitar, Vocals), Drew Littell (Drums, Percussion), Phillip Roach (Fiddle) and ten original songs that highlight the new lineup's masterful musicianship and arguably rival the band's previous recorded output.
Recorded in Chicago's esteemed Rax Trax studios, the self-produced Slow Street builds on the band's familiar blend of Americana, bluegrass, folk and improvised jams while boasting both a new lineup and fresh sound. Opening track, "Goodnight, My Darling," an up-tempo romp that nods to traditional bluegrass, is proof divine that Cornmeal has weathered significant personnel changes only to rediscover its roots and harness new inspiration. Never has the band sounded quite so full of vim and vigor. ...