Postcard Giveaway at Grateful Dead 50th Anniversary Concerts Aims to Spur 10,000 Socially-Conscious Actions

NEW YORK - Fans attending the Grateful Dead 50th Anniversary concerts can take home a set of four limited-edition Fare Thee Well postcards, distributed for free in the "Participation Row" area at Levi's Stadium (Santa Clara, CA, June 27th & 28th) and Soldier Field (Chicago, July 3rd - 5th).
To receive a postcard, fans just need to visit one of 17 non-profit organizations who have info tables on Participation Row, and take a designated "action." Collectively, the actions are dubbed the "17 Ways Deadheads Can Change the World. " They include things like writing letters to elected officials, posting photos to social media or signing up to be an organ donor.
A full list of the 17 actions, with links to each organization, can be found at www.headcount.org/17Actions. HeadCount, a non-profit organization dedicated to expanding civic participation through the power of music, organized Participation Row and the giveaway....
Suwannee Hulaweeen wave 1 line-up announcement

Silver Wrapper and Purple Hat Productions have announced the first round of artists for the third annual Suwannee Hulaween, hosted by seminal Colorado jamband The String Cheese Incident over Halloween weekend October 30 – November 1, 2015 at the famed Spirit of the Suwannee Music Park in Live Oak, FL.

Performing at Suwannee Hulaween is Denver's electro-soul and glitch-hop pioneer Pretty Lights, San Francisco thrash-funk eccentrics Primus, Chicago's psychedelic hip-hop hero Chance The Rapper and his live band, The Social Experiment, legendary Georgia jamtronica innovators STS9, rising Seattle electronic-indie duo ODESZA, San Diego's post punk reggae beach rockers Slightly Stoopid, and Detroit's electro-funk and live saxophone sensation GRiZ, along with Lettuce, Railroad Earth, Papadosio, The Floozies, Sam Bush Band and many more. Fans will also be treated to three nights, and 7 sets, of The String Cheese Incident, along with a theatrical, surprise cover-filled show on Halloween....
All Good Music Festival and Flying Dog Collaborate to Make 'All Good Ale' A Reality

Frederick, MD – Flying Dog Brewery today announces its partnership with the All Good Music Festival and Camp Out – July 9-11 in Summit Point, West Virginia – where the brewery is developing a new beer exclusively for the event. The festival-themed 'All Good Ale' promises to be perfect for the heat of summer with refreshing passion fruit and crisp hop notes.
Now in its 18th year, the All Good Music Festival and Camp Out features 32 bands with headliners including Primus, moe., CAKE, and Thievery Corporation. Fans looking to get the first taste of the All Good Ale can get in line at Flying Dog's first Summer Sessions concert of the year, as well as at select music venues in the Baltimore and DC-metro areas leading up to the festival. The June 20 Flying Dog concert will feature Hurray for the Riff Raff's blend of Americana, folk, and bluesy soul and is being held at Mechanical River in Frederick, MD....
Dave SanSoucie & the Invisible Combo - Falling in Place
With Falling in Place, his highly-anticipated sophomore release, Dave SanSoucie triumphantly emerges as that rare talent in the music industry capable of intimating the universal truths of the human experience through personal snapshots of a singular life journey. Donning the myriad hats of singer/songwriter, musician, producer, and engineer, Dave SanSoucie, under tongue-in-cheek moniker Dave SanSoucie and the Invisible Combo, presents a stellar follow-up to his well-received solo debut, Dead in Dog Years (1999).
SanSoucie's musical vision has always been challenging to categorize or pigeon-hole into any particular genre. His Dead in Dog Years-era recordings tend to paint him as a consummate multi-instrumentalist stepping into the spotlight to curate and interpret great songs from varied sources. Case in point, nearly half of that album consists of compositions by artists and colleagues as diverse as David Olney, Richard Thompson and The Neville Brothers, with predominantly co-written originals and instrumental excursions rounding it out. The eleven all-original compositions on Falling in Place, augmented by a scant few co-writes, put SanSoucie's focus squarely on the craft of songwriting....
Umphrey's McGee - 4/16/15: House of Blues – Dallas, TX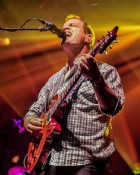 For the past five years, Umphrey's McGee has performed a block of shows in Texas in mid-April. This year's Texas run began in Dallas on April 16th. The New Orleans Brass ensemble, Soul Rebels, has been supporting Umphrey's for this part of the Winter Tour. They opened the show in Dallas with a 45 minute funky taste of the Big Easy and got the crowd dancing and amped up for the main event.
Umphrey's hit the stage without the normal walk-on intro, but it didn't take more than a few seconds for the familiar drum intro to drop right into Similar Skin, the title track of the penultimate studio offering. Next up was the double-time Miss Tinkle's Overture, taking the pace to an almost frenzied level. The first set continued with Example 1 followed by the anthemic Mantis, with a little Blue Echo interlude stuck in the middle. Set One ended with a seriously rocked out DBK > Wellwishers > DBK sandwich....
The String Cheese Incident: The Sin City Incidents - 2/13/2015 - 2/15/2015: Brooklyn Bowl Vegas; Las Vegas, NV

Sin City! This past Valentines Day weekend, the land of fun, debauchery and bad Elvis impersonators played host to a horde of dedicated fans old and new who came from all over to be part of the last stop of The String Cheese Incident's Winter Carnival tour. Dubbed the Sin City Incidents, fans and newcomers alike were treated to three sold out nights at Las Vegas' number one live music venue, Brooklyn Bowl Las Vegas.
As with most opening nights, the energy was palpable. The crowd came ready to rage. Dressed in matching black and silver bowling shirts, the band came out ready and did not dissapoint! From the opening bars of "Close Your Eyes" the first set gave the standing room only crowd a weekend to look forward to. With an early nod to the Incident's host city, they played a cover of "Ooh Las Vegas" then had the crowd hit that "Sweet Spot" before giving the them the "Best Feeling". The set wrapped up with a reminder that "This Must Be the Place (Naive Melody)" before Kang let the crowd know they were "Beautiful". ...