All Good Music Festival and Flying Dog Collaborate to Make 'All Good Ale' A Reality

Frederick, MD – Flying Dog Brewery today announces its partnership with the All Good Music Festival and Camp Out – July 9-11 in Summit Point, West Virginia – where the brewery is developing a new beer exclusively for the event. The festival-themed 'All Good Ale' promises to be perfect for the heat of summer with refreshing passion fruit and crisp hop notes.
Now in its 18th year, the All Good Music Festival and Camp Out features 32 bands with headliners including Primus, moe., CAKE, and Thievery Corporation. Fans looking to get the first taste of the All Good Ale can get in line at Flying Dog's first Summer Sessions concert of the year, as well as at select music venues in the Baltimore and DC-metro areas leading up to the festival. The June 20 Flying Dog concert will feature Hurray for the Riff Raff's blend of Americana, folk, and bluesy soul and is being held at Mechanical River in Frederick, MD....
EOTO Release K-Turns & U-Turns

EOTO is just released their 7th annual live tour compilation K-Turns & U-Turns Vol. 7, Best of 2014 on May 1st, 2015. A musical celebration in electronic improvisation, the release features over 4 hours of uninterrupted party-ready material perfect for late-night dance parties and EDM showcases alike.

A live band on hi-tech hyperdrive, EOTO has forged new territory in the electronic dance music movement. Locked and loaded with computers, loopers, midi controllers, routers, software, mixers, and the latest in music technology, multi-instrumentalist Michael Travis and percussionist/vocalist, Jason Hann have sent a speeding bullet through the electronic dance community due to their innovative 100% improvised approach and as a result, their exclusive sound. The duo starts their musical adventure from scratch (there are no pre-recorded loops, no backing tracks, and no pre-constructed songs in their live production) building each set, note-by-note, beat by beat, live before the audience as each show explodes into a full-scale celebration into sound....
2015 Electric Forest Announces Lineup Additions and 2015 Curated Event Series

Rothbury, Mich. – Today, Electric Forest (EF) released the names of over 25 artists that are new additions to the lineup, including details on The Curated Event Series, for the festival's eagerly awaited return to the Double JJ Ranch in Rothbury, Michigan on June 25-28, 2015. Tickets to the 5th annual music and camping festival sold out this past February in record time - less than 24-hours after the release of its 2015 artist lineup, and 3 ½ months earlier than ever before.
New artists added to the lineup include Wale, Galantis, Brodinski, Dam-Funk, Four Tet, The Fungineers, and many others. These artists join the already impressive list of artists set to perform including The String Cheese Incident (performing 3 shows), BASSNECTAR, Skrillex, Kaskade, Flume, Big Gigantic, Edward Sharpe and the Magnetic Zeros, Joe Russo's Almost Dead, Yonder Mountain String Band, Odesza, Paul Oakenfold, Lotus, Carnage, Carl Cox, G-Eazy, Flux Pavilion, Seun Kuti, Shpongle (Simon Posford DJ Set), Phantogram, Gramatik, Galactic with Macy Gray, and many more artists. The complete list of artists announced for 2015 can be seen HERE....
Umphrey's McGee - 4/16/15: House of Blues – Dallas, TX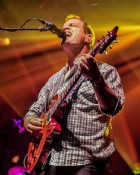 For the past five years, Umphrey's McGee has performed a block of shows in Texas in mid-April. This year's Texas run began in Dallas on April 16th. The New Orleans Brass ensemble, Soul Rebels, has been supporting Umphrey's for this part of the Winter Tour. They opened the show in Dallas with a 45 minute funky taste of the Big Easy and got the crowd dancing and amped up for the main event.
Umphrey's hit the stage without the normal walk-on intro, but it didn't take more than a few seconds for the familiar drum intro to drop right into Similar Skin, the title track of the penultimate studio offering. Next up was the double-time Miss Tinkle's Overture, taking the pace to an almost frenzied level. The first set continued with Example 1 followed by the anthemic Mantis, with a little Blue Echo interlude stuck in the middle. Set One ended with a seriously rocked out DBK > Wellwishers > DBK sandwich....
The String Cheese Incident: The Sin City Incidents - 2/13/2015 - 2/15/2015: Brooklyn Bowl Vegas; Las Vegas, NV

Sin City! This past Valentines Day weekend, the land of fun, debauchery and bad Elvis impersonators played host to a horde of dedicated fans old and new who came from all over to be part of the last stop of The String Cheese Incident's Winter Carnival tour. Dubbed the Sin City Incidents, fans and newcomers alike were treated to three sold out nights at Las Vegas' number one live music venue, Brooklyn Bowl Las Vegas.
As with most opening nights, the energy was palpable. The crowd came ready to rage. Dressed in matching black and silver bowling shirts, the band came out ready and did not dissapoint! From the opening bars of "Close Your Eyes" the first set gave the standing room only crowd a weekend to look forward to. With an early nod to the Incident's host city, they played a cover of "Ooh Las Vegas" then had the crowd hit that "Sweet Spot" before giving the them the "Best Feeling". The set wrapped up with a reminder that "This Must Be the Place (Naive Melody)" before Kang let the crowd know they were "Beautiful". ...
Tesla - 1/28/2015: Emo's Austin, TX

Capping off their stay in Texas, Tesla came to Rock Austin Wednesday night. Emo's packed in a full house and by the time they came on stage you could feel the energy in the room and the love the crowd had for the band. Opening with the power jam MP3 from their 2014 album Simplicity, and then following it up with Edison's Medicine, the band let it be known they came to rock. The crowd had a great time listening to hits that spanned their 25 year career and were thrilled when they finished the night with Lil Suzi.
Tesla is made up of members Jeff Keith on vocals, Frank Hannon on guitar, Dave Rude on guitar, Brian Wheat on bass and Troy Luccketta on drums....