Waka Winter Classic Announces Winter Tour

Wakarusa Music Festival is thrilled to announce the 9th annual Waka Winter Classic. The classic will travel through 20 cities in 14 states, searching for the best musical talent to play at the 12th annual 2015 Wakarusa Music Festival in Ozark, AR on June 4-7, 2015. The tour will begin at The Parish in Austin, TX on January 22nd and will continue through the south, hitting major cities along the way including Dallas, Denver, Memphis, Chicago and more. The tour, 20 dates all together, will wrap up at Stickyz in Little Rock, AR on February 28th.

Artists and musicians can sign up through the official Waka Winter Classic website and up to five artists will be chosen to perform in each city. The five chosen artists will be selected based on Talent, Musicianship, Draw and Marketability. Each of the five artists will then be showcased in each city, and will compete for the chance to play for over 20,000 fans at Wakarusa Music Festival. The audience will choose the winner and each winning artist will receive cash prizes....
Chris Robinson Brotherhood Release EP on Black Friday + Track Premiere + Tour Dates

Chris Robinson Brotherhood will release Try Rock 'N' Roll—a limited edition 12" vinyl exclusive EP featuring four cover songs—on Black Friday, November 28. With only 1400 copies pressed and available solely at independent record stores, the collection features three new studio recordings and one live recording of songs the CRB perform in their live repertoire, but have never officially released. The studio tracks include "Hello L.A., Bye Bye Birmingham," a Delaney Bramlett/Mac Davis composition that's been recorded by the likes of Blue Cheer, Lee Hazlewood and Bobby Whitlock (premiered today by LA Weekly); the Mel Tillis classic "Goodbye Wheeling" and the EP's title track, "Try Rock 'N' Roll" by Bobby Mitchell, that reached the top 20 of the R&B charts in 1956. The lone live track is The CRB's take on "Shake Rattle and Roll," which was a hit single for both Big Joe Turner and Bill Haley & His Comets in 1954.

"Try Rock 'N' Roll is a vinyl tip of the hat to the spirit of real rock and roll," states Chris Robinson. "It's a rhythm and soul packet of cosmic Cali boogie, a love letter to the vibrations of freedom and a great reason to have more Alan Forbes artwork in the world."...
Keller Williams Announces 2015 Winter Tour Dates

Today, singer/songwriter/multi-instrumentalist Keller Williams announces his Winter 2015 tour plans.

The year begins in mid January with shows at Irving Plaza in New York City and the Stone Pony in Asbury Park, New Jersey – where Keller brings along his six-piece funk outfit, More Than A Little, and welcomes support act That 1 Guy each night. Later that same month, Keller brings his solo set to Florida for the first time in over a year – with stops in Clearwater, Orlando, and Ft. Lauderdale January 22-24.

In Late January Keller hits the road with progressive funk band The Motet for a string of west coast shows presented by O.penVAPE. With stops in Los Angeles, San Francisco, Las Vegas, and points in between, stay tuned for information on special O.penVAPE activation opportunities with Keller and The Motet, and their fans....
Greensky Bluegrass - 10/24/2014 - 10/25/2014: Ogden Theater; Denver, CO

As the Greensky shows at the Ogden approached, my anticipation began to build. This was my first time seeing them play in Colorado, so it was slated to be a great two-night run from my favorite touring "newgrass" or bluegrass "fusion" bands. Greensky loves Colorado, and especially the wild ruckus of Denver, which always provides a high-energy foot-stompin' crowd. The musicianship and delivery of what we know and love about Greensky Bluegrass was proportioned generously both nights, paving the way for great song selection, collaborations, and a fun stage presence.
The first song "Just Listening" off their newest album entitled If Sorrow Swims set the tone for the joy-filled evening. The song's laid-back, grassy instrumentation is accompanied by lyrics reminiscent of a dedicated touring band, a concept that Greensky is no stranger to. It's an incredible feat to keep the momentum climbing, while continuing to land larger and larger venues across the US. Amidst their success, they still maintain hometown shows in and around Kalamazoo, MI. Keeping their integrity in that respect is amazing to see!...
Widespread Panic - 10/17/2014: Verizon Theatre; Grand Prairie, TX

About halfway through their Fall Tour 2014, Widespread Panic made their annual appearance at the Verizon Theatre in Grand Prairie, TX. This year, different from previous shows at this venue, Panic was co-billed with Trombone Shorty & Orleans Avenue. Another difference from prior shows at Verizon was that Panic played a one set show rather than their normal two set format. The theatre appeared to be filled to about half the 6350 capacity.
After a 50 minute long, energetic set by Trombone Shorty, Widespread Panic took the stage. With their normal drummer, Todd Nance, "taking time to attend to personal matters," Hard Working American's drummer, Duane Trucks filled in. Trucks is the younger brother of the Allman Brothers' guitar player, Derek Trucks, as well as the nephew of long-time Allman Brothers' drummer Butch Trucks. The band opened their show with Up All Night followed by Pleas....
Ringo Starr & His All-Starr Band - 10/12/2014: Austin City Limits at Moody Theater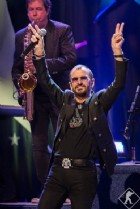 Even competing against ACL's final night line-up, Ringo Starr and His All Starr Band, back for the second night in 4 days, drew a large crowd at the ACL-Live Moody Theatre on Sunday night. His All Starr band are all stars in their own rite. Former Santana member Greg Rolie on keys, Todd Rundgren on bass and rhythm guitar. Steve Lukather on vocals and rhythm guitar. Richard Page from Mr. Mister on vocals and bass. Warren Ham, supporting on horns, vocals and percussion. And last but not least, Gregg Bissonette on drums keeping time the whole time.
The show was packed with classic hits that anyone who hasn't been living under a rock would know and love. Beatles fans were thrilled with Ringo played a number of hits like Don't Pass Me By, Yellow Submarine and With A Little help From My Friends. Richard Page slayed it on vocals during Kyrie....
Currently Running Contests