Phish Announce 2016 Summer Tour

The dates are here! Phish's 2016 Summer Tour begins on June 22 with the band's first concert in the Twin Cities since 2000, and culminates with its sixth year of summer-ending shows in September at Dick's Sporting Good Park in Commerce City, CO. The tour will include the band's first appearances at Chicago's storied Wrigley Field, as well as returns to Saratoga Performing Arts Center, The Mann, and The Gorge Amphitheater.
An online ticket request period is currently underway at http://tickets.phish.com and will end Sunday, February 21st at 11:59pm ET. Tickets will go on sale to the public beginning Thursday, February 25th. Ticketing details are available at http://phish.com....
The Werks Host STS9, Lettuce and more at The Werk Out Music & Arts Festival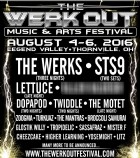 Celebrating 10 years of playing together, The Werks have put together one of their most exciting Werk Out Music & Arts Festival to date. Held at Legend Valley (just east of Columbus) on August 4-6, this seventh annual event features three nights of The Werks, along with STS9, Lettuce, two nights of Dopapod, two nights of Twiddle and many more.

The end of 2015 and beginning of 2016 was a very trying time for The Werks. They marked their 10th anniversary with the release their new album, Inside a Dream. They played one of the most talked about sets from Jam Cruise. Then tragedy struck. Only hours after they had left the stage on Jam Cruise, back at home founding keyboardist, Norman Dimitrouleas (brother of bassist, Dino) passed away in his sleep. This much tumult could be the end of many bands, but The Werks remain committed to their life's work. Their music. Taking time to process the loss, Dino has announced a leave of absence from the band and will be replaced by SassafraZ's Jake Goldberg....
Dark Star Orchestra Host Yonder Mountain String Band, Hot Tuna Electric, Leftover Salmon and more at the Dark Star Jubilee, May 27-29 at Legend Valley

Dark Star Orchestra Host Yonder Mountain String Band, Hot Tuna Electric, Leftover Salmon and more at the Dark Star Jubilee, May 27-29 at Legend Valley
More than a dozen celebrated live artists join Dark Star Orchestra to celebrate the spirit of The Grateful Dead at fifth annual music festival and camping event
Dark Star Orchestra and All Good Presents announce today the lineup for the fifth annual Dark Star Jubilee, held on May 27-29 at the hallowed and historic grounds of Legend Valley – just 30 minutes east of Columbus. Hosted and curated by Dark Star Orchestra, internationally-known re-creators of The Grateful Dead concert experience, the fifth annual Jubilee features no overlapping sets and over 30 hours of music from:...
John K Band - 2/4/16 Skippers Smokehouse, Tampa FL

Skippers Smokehouse provides a nice outdoor venue complete with trees and a view of the night sky in Tampa, FL. Skippers was featured on an episode of Man v. Food and is known for their barbecue menu, Gator Chili, and Blackened Grouper Reuben Sandwich which was also featured on the Travel Channel. As the story was told….. thirty years ago, 3 Air Force buddies who met while stationed in Alaska decided to buy this Tampa landmark. It was the opposite of the frozen tundra in which they had served. In the years since, Skipper's has grown from a small smokehouse takeout operation with a casual Sunday jam, to a full-service restaurant and much-loved purveyor of world-class music....
Art Outside 2015 - Apache Pass, Rockdale, TX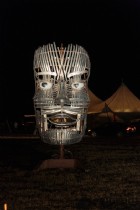 With a great music lineup, awesome art, a 4th day added for additional fun, new camping options, and record ticket sales, the 11th Annual Art Outside was set to be the best yet but Mother Nature would have other plans. Still, in spite of a record downpour that started early in the morning Saturday that left organizers having to cancel programming for the remainder of the weekend, Art Outside still turned out to be a great weekend, especially for those that came out for the pre-party on Thursday.
Pulling in late Thursday afternoon, we were braced for a bit of chaos getting in based on last year but there was a whole different vibe with a much better car flow this year that made checking in a breeze; many kudos to the AO team for that change! Once into the venue it was time to set up camp for the weekend. With a little help from neighbors I was setup in very short order. Kudos to the good vibes and helping spirit: it can be counted on at AO. Once the camp was set it was time to go explore the grounds before Tauk opened on the main stage at 6:30. There was familiarity to how the grounds were laid out and at the same time it was quite different with more artists painting, more vendors to shop at and more food choices. They were ready for the weekend!...
Lockn' Festival 2015 - 9/10/2015 - 9/13/2015: Oak Ridge Farm, Arrington, VA

This year's Lockn' Festival got off to a rocky start when the announcement went out late Wednesday night that the festival would be cancelled Thursday due to a severe microburst that descended upon Oak Ridge Farm. That didn't stop the music though, just delayed it by a day. Social media was abuzz with what that meant for Thursday's headlining collaborations The Doobie Incident made up of The Doobie Brothers and The String Cheese Incident and Billy and The Kids with Bill Kreutzmann, Aron Magnor, Reed Mathis, Tom Hamilton and special guest Dominic Lalli from Big Gigantic.
After a day of waiting to find out attendees would soon find out their hopes were not dashed even though The Doobie Brothers were scheduled to play in North Carolina Friday night, The Doobie Incident would still happen and they would open Friday right after John Popper from the Blues Traveler played a solo rendition of The National Anthem; Billy and the Kids were moved to Saturday....