Sign up for a MyKindWeb profile now!
This profile allows you to
create Pages or Groups, Photo Albums, create a Show/Event Diary to keep track of the shows you've attended, list your Recordings to let your friends know your list of tapes/bootlegs, and more... Sign up now!
Camp Euforia XI July 11th & 12th Giving Back, All the Way to 11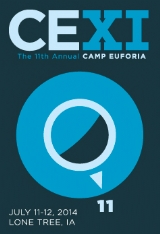 LONE TREE, IA - Bluegrass, world, reggae, funk and jam are all coming to Camp Euforia XI (CEXI) this summer. It's one-festival, two-days, for all-ages, featuring over 20 bands including Eufórquestra, Keller Williams, Motet, Kyle Hollingsworth Band on July 11-12, 2014 on Jerry's Farm near Lone Tree, Iowa. But this year, there will be more than music at center stage. Camp Euforia is partnering with the Crisis Center of Johnson County to in order to pay for 4000 pounds of food for the needy.
From Year I, Camp Euforia planned community welfare as a festival side effect and CEXI is setting "Group Goals" to reach the Two-Ton-Target: for all festival-goers, give just $1 per person; for Eufórquestra-aholics, attend the band-hosted happy hour & all tips will go to the Crisis Center. Help CEXI give back even more this year.
With its hallmark eclectic musical lineup, this year Camp Euforia is turning it up to eleven. And now Saturday-single-day tickets are available. Save money by purchasing advance tickets at www.campeuforia.com!...
Yonder Mountain and Railroad Earth - 7/4/2014: Moonlite Gardens, Cincinnati, Ohio
Nestled within a shady grove of maple trees off of the Ohio River is a small old timey amusement park that features an open-aired dance hall, the Moonlite Gardens. The history of the property dates back to 1867 when a local farmer purchased the property to grow apples, little did he know at the time of the purchase that folks cruising the river on steamboats would be more interested in renting the land so their lavish parties on the steamboats could continue on land into the wee hours of the night. Over time his property became known as Parker's Grove and went through several changes and additions to what is now Coney Island. The open-aired dance hall, Moonlite Gardens is steeped with mid-west American tradition, a welcoming dance hall to host the 4th of July, Yonder Mountain and Railroad Earth extravaganza.
The box office opened promptly at 7:30 PM and doors of the venue opened at 8:00 PM. Yonder Mountain String Band was scheduled to start at 9:30 PM but was delayed due to the fireworks. The fans started chanting and eventually Ben Kaufmann (vocals/bass) sauntered to the stage to announce a Happy 4th of July to everybody and let everyone know the Gardens initially said the band had to wait on fireworks to be over but it started to feel like a Samuel Beckett play so they thought they would come out and just "pick a little." ...