Papadosio Announces Lineup for 4th Annual Rootwire Festival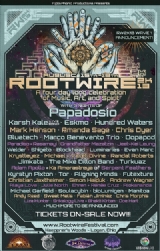 May 21, 2013 - (Logan, OH) – Rootwire returns to Kaeppner's Woods in Logan, Ohio August 15-18 peeking its head into the nexus of nature and culture once again. The heart and soul of Papadosio's artistic expression, Rootwire is a multi-day event that envelops those in attendance in a cascading flow of artistic expression from live music to painting, installation to performance art, presentations, workshops, ceremony and more. An expedition into light, nature, sound, community and healing awaits all those in attendance.

Since its inception in 2010, Rootwire has grown to be one of the premier live music and arts events in the Midwest – and is the on-going creative project of the nationally touring electronic/rock syndicate Papadosio. Well known for their relentless touring schedule, mindful melodies and transcendent tracks, Papadosio has become one of the major acts today seeking to reshape and transform the music festival landscape. Through their own eyes and ears, they have witnessed miracles and mishaps of festival culture alike and threw the first Rootwire as a way to create and practice their model for an ideal gathering. Every year since, the line-up and scope of the festival has grown, culminating in the critically acclaimed RW2K12, easily the most exciting and elegant Rootwire to date....
Umphrey's McGee - 4/19/2013: House of Blues; Dallas, TX
Umphrey's McGee stopped by the House of Blues in Dallas on Friday on their way to Austin for their annual 4/20 show at Stubb's BBQ. The Dallas gig also has become an annual event, either coming the day before or the day after the Austin show. I've been seeing UM in Dallas for several years now, and their popularity had grown significantly. Brendan Bayliss even commented during the show that he remembers their first shows in the Big D were attended by about 12 people. They've multiplied that number to a near sell-out crowd. And deservedly so, as their repertoire has grown with new original and cover tunes popping up regularly, and their setlists are tailored to move the crowd through a rocked out, improve laden maze for almost three hours, emerging from the other end physically, mentally and emotionally exhausted.
The adventure on Friday began with the Nippletrix intro, crescendoing and dropping into a 14 minute Resolution. Originally an Ali Baba's Tahini composition, Resolution has been around for more than 10 years. This little tidbit is from the Stats engine on www.umphreys.com, a very cool, new feature on the band's website....
Currently Running Contests