2015 Electric Forest Announces Lineup Additions and 2015 Curated Event Series

Rothbury, Mich. – Today, Electric Forest (EF) released the names of over 25 artists that are new additions to the lineup, including details on The Curated Event Series, for the festival's eagerly awaited return to the Double JJ Ranch in Rothbury, Michigan on June 25-28, 2015. Tickets to the 5th annual music and camping festival sold out this past February in record time - less than 24-hours after the release of its 2015 artist lineup, and 3 ½ months earlier than ever before.
New artists added to the lineup include Wale, Galantis, Brodinski, Dam-Funk, Four Tet, The Fungineers, and many others. These artists join the already impressive list of artists set to perform including The String Cheese Incident (performing 3 shows), BASSNECTAR, Skrillex, Kaskade, Flume, Big Gigantic, Edward Sharpe and the Magnetic Zeros, Joe Russo's Almost Dead, Yonder Mountain String Band, Odesza, Paul Oakenfold, Lotus, Carnage, Carl Cox, G-Eazy, Flux Pavilion, Seun Kuti, Shpongle (Simon Posford DJ Set), Phantogram, Gramatik, Galactic with Macy Gray, and many more artists. The complete list of artists announced for 2015 can be seen HERE....
Umphrey's McGee Added to The Werk Out Festival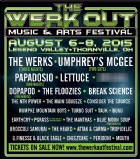 Rounding out their biggest headlining lineup to date, Umphrey's McGee will be playing two nights at Legend Valley in Thornville, Ohio (approximately 20 minutes East of Columbus, Ohio), alongside previously announced artists The Werks, Papadosio and Dopapod for The Werk Out Music & Arts Festival, held August 6-8. Adding further to an already stacked bill, The Floozies, Break Science, Consider The Source and more have also been confirmed for the sixth annual event.

After 17-plus years of performing more than 100 concerts annually, releasing eight studio albums and selling more than 3.5 million tracks online, Umphrey's McGee might be forgiven if they chose to rest on their laurels. But then that wouldn't be consistent with the work ethic demonstrated by the band, which consistently attempts to raise the bar, setting and achieving new goals since forming on the Notre Dame campus in South Bend, Indiana, in 1997....
28th Annual Old Settler's Music Festival Preview

The sun is out, the birds are singing and that means the Old Settler's Music Festival is about to begin; Bluegrass, Folk and Americana music fans rejoice! Going on 28 years strong, this year's festival will be held over 4 days on 4 stages from April 16th through the 19th and has shaped up to be another year of great music.
Held at the Salt Lick Pavillion and Camp Ben McCulloch, this years lineup includes over 30 acts that include Grammy award winning artists, the Mavericks, Hot Rize, The McCray Sisters, Austin favorite Shineyribs, Kindweb favorite and master of the mandolin Sam Bush! If that wasn't enough, Bluegrass lovers are going to love listening to Robert Earl Keen, telecaster titan Bill Kirchen and Ray Wylie Hubbard who are also on the line-up....
The String Cheese Incident: The Sin City Incidents - 2/13/2015 - 2/15/2015: Brooklyn Bowl Vegas; Las Vegas, NV

Sin City! This past Valentines Day weekend, the land of fun, debauchery and bad Elvis impersonators played host to a horde of dedicated fans old and new who came from all over to be part of the last stop of The String Cheese Incident's Winter Carnival tour. Dubbed the Sin City Incidents, fans and newcomers alike were treated to three sold out nights at Las Vegas' number one live music venue, Brooklyn Bowl Las Vegas.
As with most opening nights, the energy was palpable. The crowd came ready to rage. Dressed in matching black and silver bowling shirts, the band came out ready and did not dissapoint! From the opening bars of "Close Your Eyes" the first set gave the standing room only crowd a weekend to look forward to. With an early nod to the Incident's host city, they played a cover of "Ooh Las Vegas" then had the crowd hit that "Sweet Spot" before giving the them the "Best Feeling". The set wrapped up with a reminder that "This Must Be the Place (Naive Melody)" before Kang let the crowd know they were "Beautiful". ...
Tesla - 1/28/2015: Emo's Austin, TX

Capping off their stay in Texas, Tesla came to Rock Austin Wednesday night. Emo's packed in a full house and by the time they came on stage you could feel the energy in the room and the love the crowd had for the band. Opening with the power jam MP3 from their 2014 album Simplicity, and then following it up with Edison's Medicine, the band let it be known they came to rock. The crowd had a great time listening to hits that spanned their 25 year career and were thrilled when they finished the night with Lil Suzi.
Tesla is made up of members Jeff Keith on vocals, Frank Hannon on guitar, Dave Rude on guitar, Brian Wheat on bass and Troy Luccketta on drums....
The Wild Hymns - The Wild Hymns
The Wild Hymns is the eponymous project originally intended to be either a solo album by singer-songwriter Megan Woodland Donley ( performing at the time as "Little Bird" with a back up band) or at the least a demo of her original songs. Working with York, Pennsylvania based sound-man/recording engineer/musician wunderkind Mike Couch saw the project bloom into both a full-fledged album of great merit, as well as a band to perform the songs with promise of more collaboration in the future.
The band's sound touches many musical styles, but in the broader sense sits nicely into the Modern Folk/Americana genre with leanings toward Jazz and a touch of European gypsy music. Although the band's sound can be described as a bit "Retro" (which to my ears means, in this case, well written, beautifully performed and recorded with no gimmicks or unnecessary studio frills), The Wild Hymns sound fresh, modern and very relevant. The album is a breath of fresh air in a musical world ( at least the so-called mainstream musical world) that puts artifice over heart and soul....