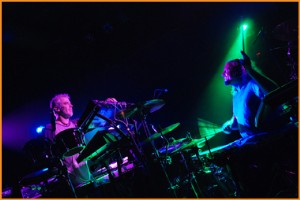 Prize Description:
•

Pair of Tickets to see EOTO at the Abbey Pub in Chicago, ILL

(2 Pairs Available)
You will be notified on 10/9 and your name will be added to the guestlist +1, to pick up at the willcall
While the genre of live electronica is relatively new on the music circuit, nobody is breaking the boundaries of live producing and improvisation like EOTO. Fusing elements of live instrumentation, house music, dubstep and electro into their dance ready sound, the band will be taking the country by storm beginning in late September for their perennial fall tour, performing 33 consecutive nights in a row. Consisting of Michael Travis and Jason Hann the duo mixes the organic sounds of live drums, keyboards, vocals, bass, percussion, and guitar through a variety of programs and gadgets to create a style of music that is more likely found in a dance club, then a live music theater.
What sets EOTO apart from other artists in this emerging genre is how the music is created. While some artists may spend hours pre-mixing samples and elements of music for their live show, EOTO uses nothing pre-recorded, giving them the ability to approach each song with on-the-spot spontaneity and 100% live improvisation.
Abbey Pub
3420 W Grace St
Chicago, IL 60618
Set: 9:00 PM
18+